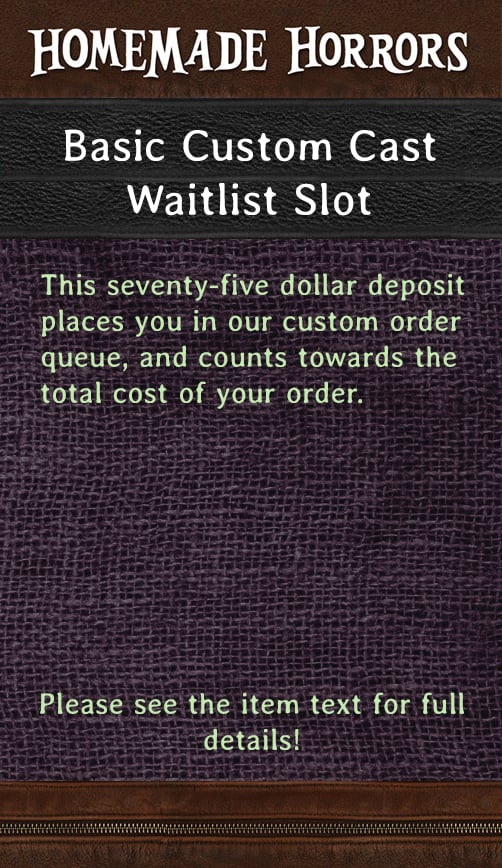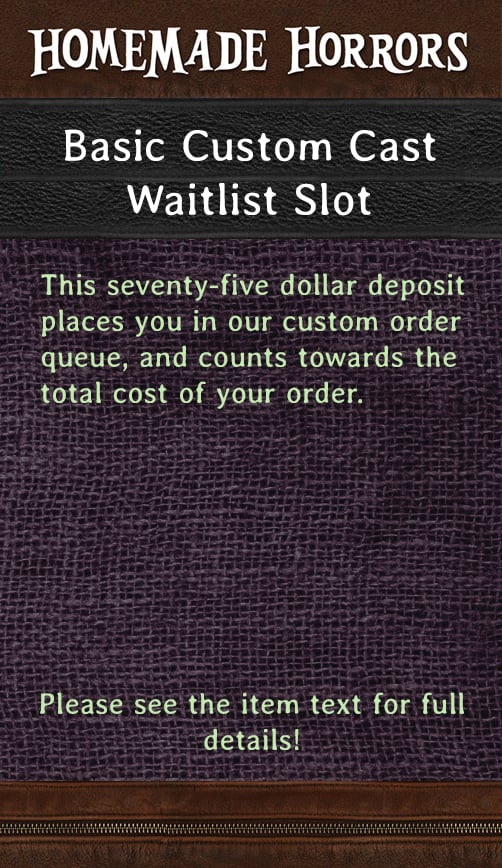 BASIC Custom Waitlist Slot
$75.00 / Sold Out
This listing is for a basic custom waitlist slot. This lets you choose your critter, and a simple colour scheme. This may be may be a photo (ie. a sunset) or a simple written description (ie. blue & purple with green accents).
If your intended design includes a reference sheet, extensive or highly specific markings/colours, pattern alterations, or cast modifications, please see our complex custom waitlist slot listing instead.
Basic customs will receive WIPs through-out the process, and include a max of 2 changes during.
What can I order?
You can order any pre-existing cast critter from our line-up which is not limited edition, or retired. For a full gallery of available casts, please check out
the beasitary. Please note listed prices do not include shipping.
How do I get on the waiting list?
A $75 non-refundable deposit secures you a spot in the queue. Your deposit counts toward the total cost of your order.
1) Your deposit can be made by purchasing this listing.
2) Fill out this form.
3) Wait for your confirmation email. Once you've received this, you're in the queue!
So how does it work?
Like any other waiting list really!
We work through the queue in an orderly fashion. Once we get to your number, we'll send you an invoice for either your full, or partial payment as you indicated on your order form. You have 72 hours from this point to pay the invoice, or we'll skip over you to the next in the queue and come back to you again later.
Once you've paid your invoice, we get down to it. You can follow our progress on our trello.
Upon completion, we will either send off your wee beastie if you've paid in full, or send you a second invoice for the remainder of the amount owing plus shipping, and send your critter along once that's been paid.
To view our TOS please follow this link.
And that's it!
If you have any questions, please email us - [email protected].